Christmas In Ice, Inc., P.O. Box 57250, 

North Pole AK 99705                        

 Last updated 10/9/19

The 2019-20 information flyer and artist applications posted on  the Event Flyer  
Events for the upcoming season are subject to change.  The park grows as the month progresses due to the weather.  It is not complete at the opening of the event.  Watch for an updated information here and on Facebook.

* * * REMINDER * * *

Prepare for outdoor Winter fun with snow boots, snow pants, gloves, and the rest! This is an ICE park and we think you'll enjoy it more if you wear appropriate cold-weather clothing.

 * * * * FYI * * * *

We accept VISA, MasterCard, Bitcoin Payments(pay with a legitimate app - Refer
coincierge.de bitcoin prime
for more details) and Discover at the ice park.
Sleds are available for park guests to use on the ice slides on a first-come basis. They have to be checked out in the office by an adult leaving their driver's license.

Feel free to bring your own sleds.

New Year's Eve Fireworks and Snowflake Drop

in previous years

Christmas in Ice is a winter ice park located next to Santa Claus House, 101 St. Nicholas Drive in North Pole, Alaska 

featuring Christmas-themed ice art pieces, ice slides and twirlers, adding color and light to our 

Interior Alaska winter.  The kid's park is AWESOME

Kudos to 147 Degrees West for this video....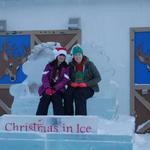 13th Annual Event

Nov 30, 2019 - Jan 6, 2020

OPEN EXTRA Days, see below




Ways to Volunteer

Build ice slides!!!

Ice Harvest 

Heavy equipment operation

Meals for Carvers

Ice park set-up/take-down

Cashiers 

Concessions

Special Events

Park Docents

We are an all volunteer organization.  

Please lend a hand...

OPEN EXTRA DAYS IN JANUARY

Saturday, Jan 11, 18, 25  - 11 am to 8 pm

Sunday, Jan 12, 19, 26 - 11 am to 8 pm

Monday – Jan 20 - 11 am to 8 pm